Sydney Cole is a sexy step sister just minding her own business and doing her laundry when he brother walks in to use the wash room. The two argue about who gets to use it while she slowly undresses in front of him. He starts playing with her perky titties and she doesn't seem to mind.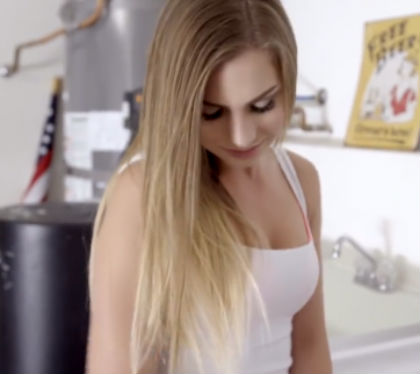 Look at that bashful cute little face. Contemplating how horny she is, she strips down and bends over the washing machine to get her treat. She knows it's wrong to fuck her step brother, but hey, they aren't related after all right?
That perfect ass is notably perfect. He crams his fat cock in there stimulating feelings she didn't know she even had. Hitting all the right spots like a perfect game of darts. It takes a moment for him to wedge up inside of her tight little pussy. But once he's in there, she's all for it. Enjoying the dick like a fat kid enjoys Pizza Rolls.
Switching up the rooms they move to the kitchen and he is determined to finish what he started. She feels his cock tickling her insides, and moans in pleasure. I wouldn't even wipe off the counter even, I'd just eat my food right off it. Weaving in and out of traffic are their parents, on their way home from a mid afternoon brunch after a long night of scheming with their business team.
She decides she really does love her step brothers cock inside of her and gets a burst of sexual energy. It emits throughout the area like a super powered wifi signal. Sydney's titties fall free and they look deep into each others eyes contemplating the beautiful art they are creating. Forcing her torso down with the help of gravity, she bounces up and down on her step brothers thick dick.
Hopping off the counter she makes he way to the floor and prepares herself to catch an epic cum shot right in the mouth. The first shot erupts with such power it glides through the air like a flying squirrel and lands right on her shoulder. The second pump cums out and jumps right in her mouth. Smiling in satisfaction she gobbles it up and giggles a cute little giggle. He looks down, nearly unable to believe he just fucked his step sister.
Date: January 17, 2017