Emma Mae is a tight little blond porn star. She reminds me of a flower growing on an island in a beautiful place. Her cute pink panties get wet as her pussy is gently rubbed through them.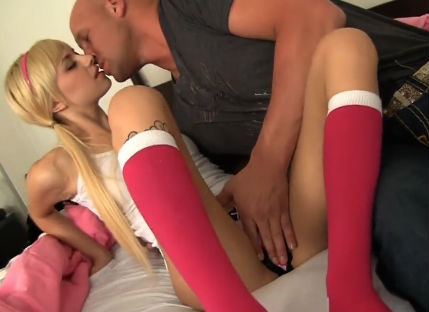 Those panties fall right off and he starts running his tongue up and down her pierced love box. Moaning in pleasure she grabs hold her tits as if they were bound to slide from her chest as snow does from the roof.
Licking that pussy
Mouth open she enjoys the pussy licking in the present moment, getting wetter than a dolphin poop as she prepares herself for some dick. Unleashing King Kong, He slides up inside the ever beautiful Emma Mae.
Emma gets fucked hard
She rides the dick wit passion. Her tight pussy latches hold and does not want to let go. I like her tattoo's, they are great. Emma's pink tight pussy gets licked up and dicked down. He picks her up and rolls her over for some doggy style action.
Look at that perfect ass! It's exactly what I'd like to eat for lunch if anyone is delivering I can pay shipping cost. She possesses the perfect recipe for an epic porn video: Tight body, Perky titties, Cute face, Lust.
The moment of eruption has cum. Gracefully handling the dick with care yet stability, she offers up an epic blowjob and catches swallows the load like a seasoned chicken nugget. Long legs with stockings hang to the side as her hand and mouth reach towards the north pole. Emma Mae is a cock gobbling little petite goddess with a body of gold. Be sure to check back for more of her and other hot girls you can wank your willy to!
Date: January 16, 2017