Pornstar Holly Hendrix is at it again. After winning starlet of the years at the AVN awards she comes home and fucks her boyfriend for the cameras. The tiny brunette knows how to please her man, and cooks the dankiest dinner after the two both cum and clean up.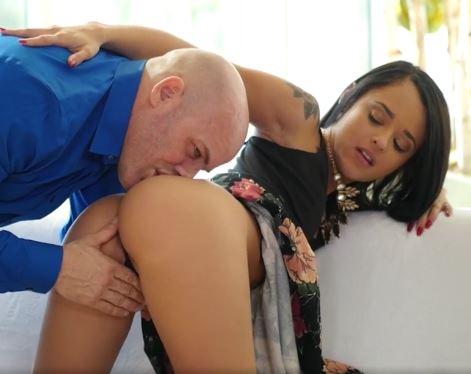 Her boyfriend knows an oppurtunity when he sees one, so when his beautiful girlfriend comes home in her sexy dress and expensive jewelry, he gets his dick hard and goes in for a bite. Rubbing her pussy while she rubs the tension out of his shoulder. Holly Hendrix knows how to please her man. She's a nerdy teen slut that knows how to make money with her partner. They stack it up and make it work for them.
Holly Hendrix lays back and gets her pussy licked much to the crowds happiness. He runs his hand up her stomach and grasp a tit. Giving it a grab and a twist she giggles in pleasure like a Unicorn who has just found an untended field of grass.
Holly Hendrix responds to his advances with a blowjob. Bowing down and sucking his cock like an engine does gas. Her heals poke up and extend out of the frame while her petite ass reaches up and kisses the sky.
He folds her down and stuffs his cock deep inside her love bucket. She moans while looking back and he takes that as a good sign, because it is. Her pussy tightens up around his cock and he nearly cums, but he holds off and continues thrusting in and out of her tight pleasure pocket.
Grabbing hold of her hair and pulling her on top he lifts her up and down on his cock until she erupts in orgasm. Resembling a Volcano with the power of her orgasm he nods to himself in agreement of a job well done. Her cute little butt hole opens up and sucks in a mouth full of air that runs through her system and escapes out the top as a giggle. He holds her hand on her ass and gives it a quick little slap that gets her horny enough to go cook some onion bagels and top them with chives cream cheese bra.
Date: April 10, 2017