This hot little house wife can't get enough of the dick. As soon as her hubby gets home she's ready to tear off his clothes and shove that cock in her lust socket. He tears at her clothing and pulls up her dress to reveal a sexy pair of panties. Pulling them down and sliding his cock deep into her lovely pussy. The two moans in agreement.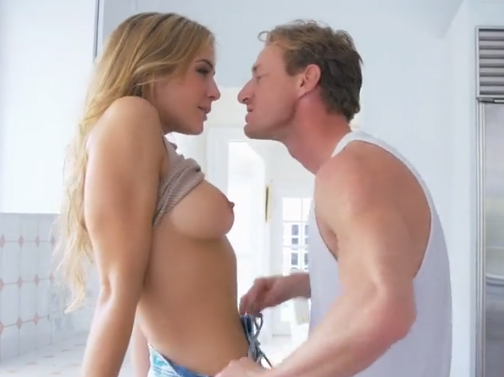 After taking off her clothes he fucks her good. The two 69 each other and love every minute of it. This little slut is determined to coax a nut from this dudes ball sack if it's the last thing she does.
Blair Williams pushes back on his dick and pulls her shirt up, showing off a perfect pair of tits.
He grabs hold her leg and pulls her closer. They both moan out that they are going to cum, and that's exactly what happens. He pumps a huge nut out right onto her stomach and she rubs it in like moisturizer.
Date: July 1, 2017