Jillian Janson wants to make sure she's healthy, taking all the traditional routes she lands in her Doc's office laying on the table. After a full body inspection he notices no troubles but dat ass. He casually tells her that her butt hole is just to tight, and she's flabbergasted by the news.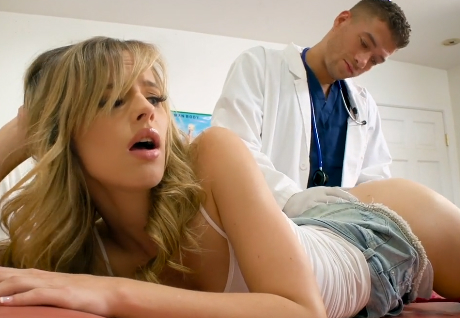 "Aw shit bra, how we gun fix it?" she asks politely. "There's only one method I know of" he acts responsibly. "Ima hafto dick this out" he adds. "Fsho fsho" she chirps. After that intelligent conversation Jillian Janson spreads her cheeks and tells him to fix it. Little does he know she actually enjoys anal so much she has a poster of an ass hole on her wall, kinky bitch.
He adds an 8 inch script of dick for this blonde barbie. She enjoys every minute of her visit. Her doctor fills her ass full of dick while she rubs her kitten. "Can I get refills and a doctors note?" she asks him in between nods, and he shakes his head yes in agreement. This dude needs to setup an adult webcam in his office for days like this.
Hitting every angle, Jillian Janson gets anal from her doctor in his office. She lets her nipples out so they can absorb oxygen increasing health and prolonging her ability to perform. She takes the dick all the way, balls deep fam. Finally busting a fatty nut in her ass while her wet love bucket glistens in the sun light from the window.
Date: April 25, 2017