Uh oh, Looks like Alice March is in trouble. There's only one way to get out of this situation and save her job. If you guessed make coffee, that is incorrect. Will Alice suck and fuck to save her employment? Stay tuned..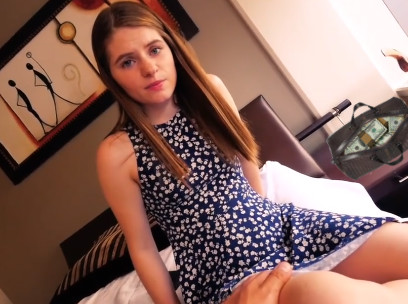 She looks nervous about if she should fuck or not. Deciding it's actually a turn on, she gets warmed up to the idea. Slowly sliding to the floor and taking a knee, her pussy starts tingling and getting wet.
Gabbing hold of the situation she deep throats the dick at hand. The wood flooring reflects a flawless ass for all to admire. Sliding her free hand up her skirt to rub start her pussy. Her blue eyes star into her boss's eyes as if to say I'm sorry but I can fix it. Moving her hands to the set of balls before her, Alice gently rubs and massages the testicles sending a pleasurable sensation up and down the spine of its owner.
Admiring her cute butt hole I pretend that's my cock sliding into Alice March while she wears a blue sun dress. The sun shines on her face adding a faint tan. The cock throbs to the beat of the owners heart beat, pushing blood to the essential organ. The two have never been this close, and it looks like this could land her a full time position.
Finally he tenses up in orgasm and erupts a triumphant nut between her ass cheeks. A slight grin of satisfaction crosses her face. The fat nut laid aside her anus for at least 3 minutes before the two decided to move and see what the kid was doing. Safely asleep they moved to the kitchen to enjoy a mid afternoon brunch.
Date: January 16, 2017