Emma Mae is a sexy college girl who is horny and in need of a good fucking. Meeting up with her older friend the two chat on the couch about the weather and local events. Her bakery is doing well and his real estate gig has really evolved lately.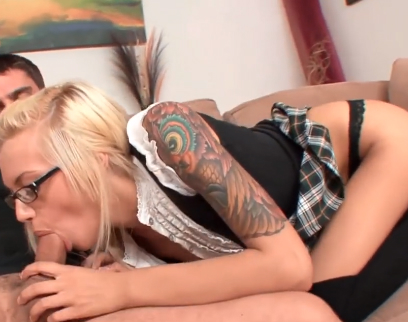 Scene here wearing a mini skirt and lacy panties while blowing a hard cock and rubbing his nuts. Emma Mae is a gorgeous blonde and handles a ball sack the way country singers maneuver the strings. With a crystal clear view of the situation at hand, he slides his hand up her thigh.
Around and up the other side he rubs Emma Mae's pussy through her panties. She gurgles on his dick and moans around his cock.
Pinching her nipple he eats her pussy sparing no detail. Emma Mae watches her pussy getting licked and her nipple being pinched and she grinds her love box into his face. He looks into her belly button and notices that there is no lint, well maintained.
Sliding his man hood into her hooded tavern, he reaches around and grabs hold of Emma Mae's titty while he enjoys the sexy time. She whispers "Deeper harder faster!" to which he replies "Ah, I love that song!".
Emma Mae gets a facial
The porn video ends with porn star Emma Mae getting a fat load of cum shot on her face. She smiles and sucks it all up. The two agree it was a good time before heading there separate ways.
Date: March 28, 2017