Alaina Dawson is a cute girl with a face. She grabs attention like a TV, and what she does with it is simply magic. A new porn star she's picking up a following while she make her art. A plump booty that will make a string of drool dangle from your chin while you stroke your cum gun out of rounds.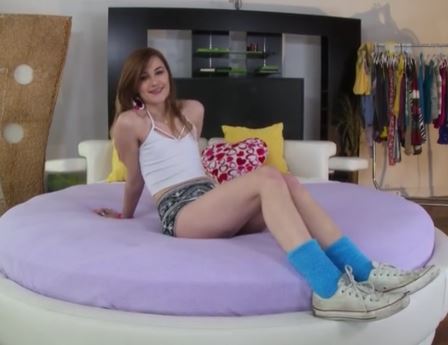 Looking cute in miniskirt and tank top she's ready to film a porno. Undressing slowly and sexually her partner gets aroused and she starts to get wet. A slip and slide comes to mind. Her hair falls down over her shoulders and his dick gets hard in his pants. It's a wonderful turn on events.
Her earrings flap in the wind while she has a tongue shoved inside of her poop chute. A box of sex toys inhabits the right side of the bed, pushing the two forward into kinky uninhibited sexual intercourse. She is sexy yet smart, reminding me of a hot office babe I'd like to fuck.
Alaina Dawson's eyes water as she struggles to fit a massive schlong down her throat. Looking deeply into the camera lens she gobbles up that dick like a turkey in the wild being chased by a bob cat. Slowly sliding off her top and revealing her perky little titties to the world, the party rolls forward..
He lubes up her pussy and slides in. She groans loudly as if the Pizza Rolls had just finished. He peers passionately into her asshole while thrusting his 8 inch tool into her quarter pocket.
Alaina Dawson looks on in amazement as her tiny pussy is stretched to the maximum. Happy she can easily hide her contraband now, she smiles and enjoys the moment.. Her tight pussy wrapped around a massive cock. We admire her tattoo and stroke our pea shooters before she gets down and gobbles up that cum like a true champion.
Date: April 9, 2017