Alice March is a petite little goddess with a body to drool over and a mind to fathommm.. She wears a flower patterned halter top in this epic hd porn video. Her partner admires her body as one does a brand new pair of shoes. Appreciative and comfortable.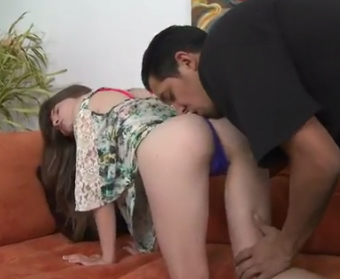 Alice March petite porn star has her leg rubbed and ass kissed on a comfy sofa while her long hair falls to the ground like your jaw when she smiles.
Pulling purple panties aside he flicks her clitoris with his tongue. Eliciting pleasure signals.
She pulls that cock out and looks at it with intent. She plans on giving an amazing blow job in this porn video. Watch it above to see what happens and where the cum lands. Alice March is a sexy petite porn star that gives many a man a boner and releases dopamine into the minds of many around the world.
Date: January 21, 2017