Kara Faux is a sexy brunette wearing nothing but clothes and jewelry. She paints frosting on cup cakes for awhile before her porn star new best friend enters the room and taste test everything in sight. Kara Faux strips down gently and shows off proudly. Her newfound partner in porn gives her pussy a lick before delving a bit deeper into the sexual encounter.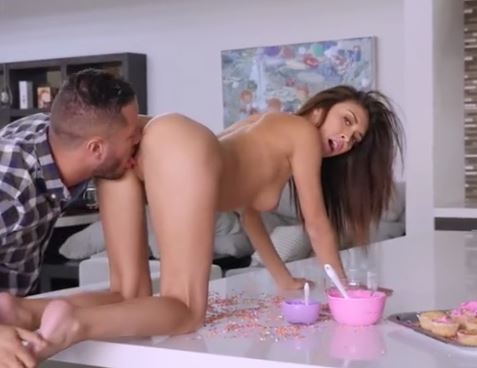 As you can see the cup cakes are safe and sound sitting silently to the right of the two. Half of the cup cakes have been frosted while the other half patiently await there fate. Kara Faux has her foot rubbed while she gets her pussy licked and looks back at the camera like "You like that?". Her titties look good and her asshole looks eatable.
Kara Faux gets her asshole licked while she moans in pleasure and rubs her clit like a maniac. Pushing her head into the blanket with such RPMs as to leave a little rug burn on the side of her cheek. The dude was noted as having mentioned her butt hole tasted like chocolate frosting, which I personally thought was fairly romantic.
Next she gives an amazing blow job that surely will be noted in the Akashic Records. She can hardly fit the large penis inside of her mouth but she manages to do that with skill and little hesitation. She rubs the nutsack like a pro and handles the eye contact with expert level finesse.
She gets fucked right in the pussy and it's nothing short of magical. The two embrace in several positions as a red dot does on multiple targets. He finally fires a nut with the help of her hand and the two live happily ever after.
Date: April 8, 2017