Marina Woods is ready to fuck and isn't afraid to get it on video. Walking into the room in her green shirt, ready to do work. She knows the game well and makes the right moves easily. Seducing and removing her clothes touch the floor. Amusing and infused with sexuality galore. She wants to be naked but for now she is clothed, but give it a minute you'll be blowing your load.
Her pants hit the ground and she's ready for dick. She grabs for his phallus and he reveals it. No worry to be had just good times for all, divided we unite and united stand tall.
Yanking and smiling his pants come undone. She grins and she thinks about making him cum. She will lick his cock much to his delight. He will moan in pleasure because it's something he likes. This porn video was pretty good, She's a new comer in this part of the hood.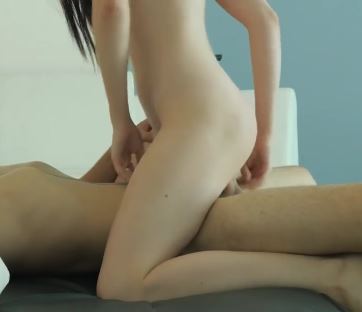 On the penis she slides like a hand on a shaft. Tickling the ball sack igniting a laugh. He pulls in his tummy and presses up his power, It enters her vagina and they for an hour. She's white and she looks like the girl next door. He's got himself a camera like hes done this before. The two work together to reach a good climax, And so do the on lookers that play it and rewind back.
She rides on the top like a flag on a pole. She loves the penis much more than she can console. All that she needs is a cock in her pussy. Then she feels good and is ready for TUSHY. The light shines in through the window on the wall. Her mouth open in pleasure she crawls. To the kitchen after all is said and done, for a chicken stir fry everyone can have some.
Date: January 23, 2017