And we get to watch. Janice Griffith gets her pussy and ass filled by two suits. She traveled from state to state looking for the perfect gang bang. When she finally found the two professionals for the job, she was over joyed.
She meditates in the mirror mentally preparing herself for the threesome to come. Fully prepared for the moment she follows her intuition to avoid on coming traffic. She swerves in and out of moods like a boxer does a ring.
Getting her pussy licked and he necklace undone, she is happy to be making money and having sex. Quality porn bumping out of TUSHY's studio speakers and into our ear drums. "Oooh can I keep the robe?" she moans out loud.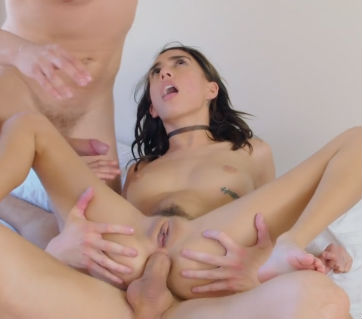 Here she sits perched a top a mountain of penis awaiting a shower of nut powder. Jannice navigates the north pole flawlessly drawing all angles to a spectacular conclusion. Anal sex with Jannice Griffith is captured on video and blown into vacuum of the internet.
Here she is giving us a smile with the two dicks. A job well done! Please press continue.
Date: February 17, 2017