Lost and stranded without a ride home, the beautiful Dolly Leigh has no choice but to flag down the only vehicle she'd seen in hours. Having been stranded by her friends in the middle of no where, she begs the driver to help her make her way back to her homestead. He doesn't like picking up hitch hikers, but decides to take a chance on this sexy little redhead. The two make a deal, she's going to give him a bit of pleasure in exchange for him going out of his way to bring her home.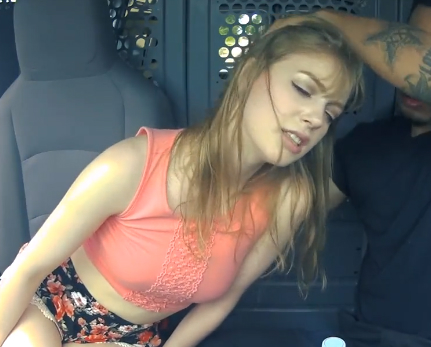 Forcing her into agreement she plays with his dick before they make their way to the back of the van. Once in the back he spares no time in ripping those clothes off and fucking her doggy style while she moans in fear and pleasure simultaneously. Dolly Leigh is just happy to be finding a ride home and at the same time working on an orgasm. He thrust his big dick deep inside of her over and over again, slowly at first and then faster as he builds up momentum.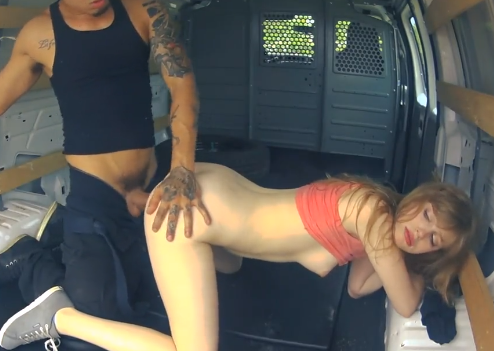 Dolly Leigh's perfect tits fall out of her shirt. He lays a firm slap on her ass while she grabs the inside van wall for support. It's an astoundingly calm experience for the two given current circumstance. The two agree they should switch positions.  H proceeds to hit it just right and provoke a never ending orgasm that could shake Hilary Clinton awake.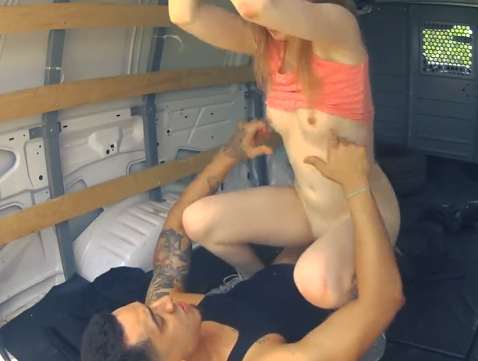 Reaching high up to her tits he goes in for the grab. Firmly grasping one of Dolly Leigh's titties in each hand while thinking to himself how perfect they are. She bounces up and down on the cock with unbridled glee. How lucky is he to have found this beauty stranded on the side of the road? The two fuck and fuck until they can't any longer. She steers him into the direction of her home.
Date: July 1, 2017