Keisha Grey is a sexy porn star who loves birds and has the body of a goddess. With pretty eyes and a personality sculpted by god himself. She searches the woods and finds what she's looking for without even trying.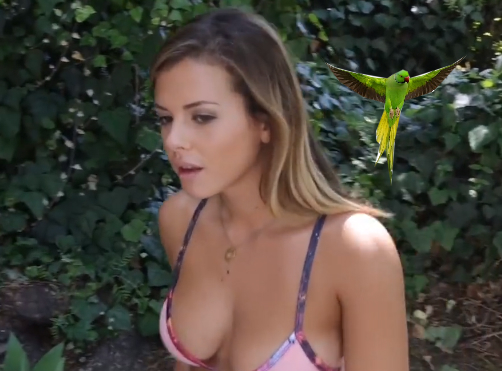 A parakeet flies in the wind. Keisha Grey doesn't even notice the bird flying over her shoulder. She's lucky it didn't poop in her bra.
Keisha Grey the wonderful porn star with boobs that possess nipples stares deep into her friends eyes. "Care if we jump in the hot tub for awhile?" she asks. "Yes of course! It's right over here!" he responds. The two go chill in the hot tub, that loosens up the muscles.
After some time relaxing in the hot tub she gives her friends friend a blow job in the hot tub. A dolphin jumps out of the water to take a peek. "How did you fit a dolphin the hot tub?" she gurgles out. "It's a big hot tub!" he grunts.
She rides a dick like a shitty driver rides the clutch. Their cat sits in the background staring off into the distance. The two enjoy a solid fuck session and both cum hard enough to shake a beard off a face. The released tension echoes around the world all the way back to the butterflies wings.
After an extremely pleasurable fuck session Keisha Grey gets a fresh creampie. She sticks her fingers in there to pull out that vital essence, and finds it had transformed into two dollars. She pulls the two dollars out and buys a egg sandwich on the way home.
Date: March 14, 2017