Melanie Rios is a smart student with a bright future. Ready to learn more she finds herself a tutor and shows up to her appointment on time. With a rocking petite little body and an ass to match, she walks in and grabs attention like intent pulls results.
Undecided on where she wants to sit, she does a few spins and purses her lips together in wonder. Melanie Rios is a good girl with sexy thoughts. After talking to her tutor for awhile she asks if she can see his dick, he thinks it's off the wall, but is willing to let her put it in her mouth for extra credit if she so desires.
Melanie Rios can hardly fit the fat dick in her mouth, but she tries her hardest. She's willing to put in the effort and he's willing to give her the time of day. After sucking on her tutors cock for awhile she decides she wants him to lick her pussy, and he obliges her request, taking the time to lick her in and out and all around.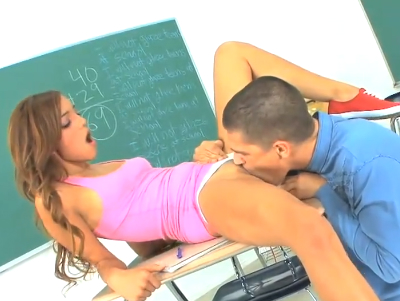 He licks Melanie Rios into orgasm and she returns the favor by sucking his cock until he erupts. She lets him flop a wonderful cumshot on her face, which she enjoys and appreciates.
Date: May 6, 2017