Sydney Cole is a sexy little porn star who loves to get fucked hard. She meets up with her accountant to strategically plan her next business venture to a T. After balancing the books theoretically and letting him know how much money she has to invest into her new found idea, he admits, it's a fairly solid project.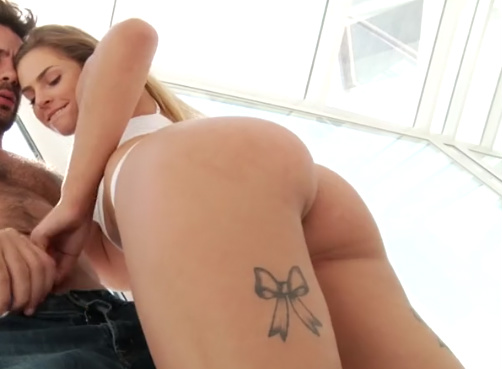 She gets so excited to hear that he thinks her new venture will do well that decide they should fuck after they throw a good rap song on for background music. Stripping her pants off she slowly works his zipper down to reveal a huge dick she can sit on like a chair in a waiting room at the bank where she waits to pull out $500 in $100's to get some new threads. She tells him that she has been working on a couples masturbating webcam site. Saving all the money and accepting donations of tokens so that she can make some real fucking moves..
He buries his face into that pussy and slurps it up like a sprite filled up with opiates. Moaning in pleasure she lets a tit fall from its resting place. This isn't Syndey Cole's first rodeo, she been riding dick for a sexy second.
They take a break from the dick to pussy action and she lets him fuck her in her throat. With absolutely no gag reflex she gobbles down a huge cock that stretches the limits of her word producer. He thrust in and out of her mouth like a spaceship does our atmosphere. He thinks to himself "I've never seen a girl that could gobble up this whole thing! I HOPE SHE STARTS MORE PROJECTS!". She does have some of the greatest ideas to ever grace the edge of her bodies thought receptor. The two work together, when the chemistry is real there's no denying it. The two both have their talents and they will use them to figure out how to make $10,000 to start.
"You like this pussy?!" she asks him. He responds by laying her down on her back and feeding her pussy the dick like it was starving. Her pussy is so fucking hungry it gobbles up the dick and gets it wetter than a swimming pool full of water. "I'm just plotting on the future!" he responds off key. The two continue fucking like elk and recording it for the masses. Moans and grunts and pleasurable chemical reactions occur.
She smiles at how well the business meeting is going and he decides it's time to bust a nut in her mouth since she already has had multiple orgasms. He strokes the nut deep into her mouth and she drinks it down like a coffee in the morning after a night of having a few drinks with friends out on the town. The two decide to plot out the next move, and get some food. Sydney Cole has other videos on here to, if you're interested. 🙂
Date: April 12, 2017