Megan Rain and her boyfriend are on the fritz when this stud comes a long. Sitting outside on the steps and chatting it up for a bit. The two decide to head back to the apartment for some wine before things start heating up like a pair of panties on the furnace vent.
Once inside the glasses are pulled out and filled up. The wine is tangy and the pussy is clean. The money flows and she doesn't talk much. She agrees that she does in fact want to suck a dick. And she does just that.
Totally excited about the situation he's found himself in, he enjoys his blowjob. Her titties look good and her face looks better with some hair to grab on to for traction. She rubs the nut sack and gets his engine running. The two move on to the next stage which is sticking a finger in her ass. Slowly and gently he eases one in.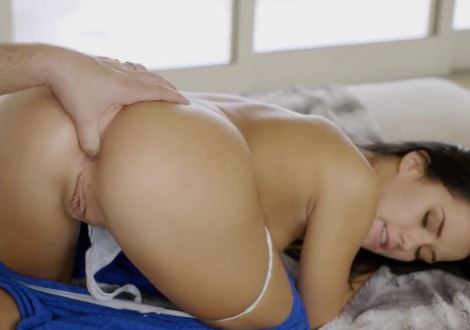 Her white panties fall down and she finds out that she enjoys having a finger in her ass. She's ready for more anal explorations and does just that. She says some sexy words "Stick it in my ass daddy" to which he obliges. "As you wish honey" he shoots back in her direction.
Pulling a cheek up and cramming all 9 inches of his dick deep inside her anal cavity, she moans in pleasure and ponders if she can even take such a massive rod without exploding from the inside out like a grape being bitten into. He takes a hand full of her tit and a hand full of her ass and pulls each in opposite directions, entirely disorienting the mind body connection for a moment or two, just long enough to coax an orgasm from the depths of her ass hole and press it into existence against the lens of a camera.
Date: February 19, 2017