Well would you look at that! It happens just like the title says. These two wonderful porn stars share a thick sausage cock in bed. Kimmy Granger works the mini skirt while Aidra Fox sleeps peacefully naked. The three enjoy sexy time like snowboarders enjoy mountains.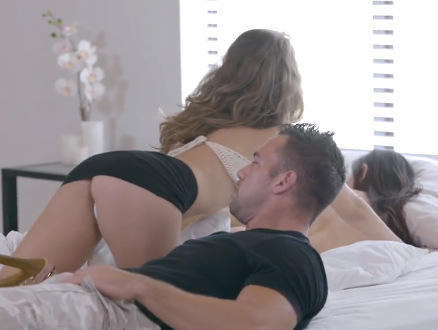 Kimmy Granger crawls by and dude admires the curves like a Porshe does a corner, "Skirt skirt".. Era era.. The writers brain disc skips a beat and catches on threesome. These two ladies are ready to fuck. Aidra Fox is about to wake up and get some cock stuffed in her. They will probably suck a dick with glee!
Aidra Fox and Kimmy Granger both suck a dick and have fun with it. Light pours in through the window lighting the situation perfectly through the shades. This threesome fuck sex porn scene is one for the history books surely.
Dude piles up the ladies and fucks them at the same time. The two enjoy it. Kimmy Granger and Aidra Fox are surely some professionals when it comes to fucking. Hopefully they have an orgasm and cum so hard their clits fly through the air hitting an unsuspecting pedestrian square in the face at over 128 miles per hour.
Date: February 10, 2017