Lily Rader is at it again with her sexy self, She peels off her clothes and I stare in anticipation. Lily Rader is a sexy blonde pornstar with a petite body. She sucks a dick like Aphrodite incarnate. There isn't a lot of things I would like to write about more than Lily Rader getting fucked in an epic porn video, and you know me, always doing what I want.
As you can see she pulls her panties up into her pussy, which I thought was a pretty sexy move. She has a cute face as well, which really adds to the climax.
The blowjob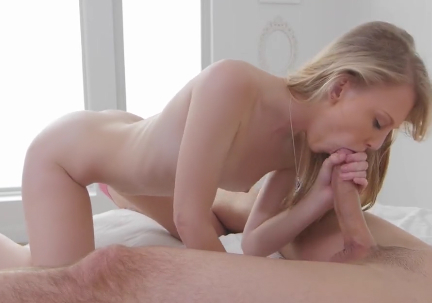 Lily then gives an awesome blow job. She is slow and easy with it. Stroking up and down the shaft of his dick while staring into his eyes. He moans in pleasure as she sucks that dick. She gives a blow job to remember and we surely will for eons to come.
Getting fucked
He licks her pussy and then lifts those legs up and slides his big cock into her tight pussy. Her wonderful boobies float in the breeze as she rolls her eyes to the back of her head. The sheets are clean and her pussy is cleaner. The floor is freshly mopped and her pussy recently licked. I'd pick the lint out of her belly button.
She hops up on that dick and rides it while she rubs her clitoris. The time of orgasm quickly approaches. After she rides the dick like a goddess she hops down on to her knee and he blows his load on her face. Now's the time to clean up and get a snack!
Date: January 14, 2017