This crazy babe is looking to get a nut blasted in her perfect little love container. Tricking her ex into a bout of sex on the couch is easy to say the least. Peeling off her sexy clothes and sucking his dick until it's rock hard. The two have some past chemistry and are looking to make this the best sex session yet.
And with an ass like that it is no surprise he can't keep his eyes off the awe inspiring Jillian Janson. There isn't much I wouldn't do to be able to peel those shorts down over that fine looking ass. She's feeling horny and willing to make the first move. Can't beat that!
It's time for some penetration
She rides a dick cowgirl with expertise. Pounding herself down and taking his whole cock inside of her. The two moan in mutual pleasure. "Sex is pretty great" they think simultaneously to themselves. She can't take it any longer and is ready to get a creampie like her friend Elsa Jean did the other day.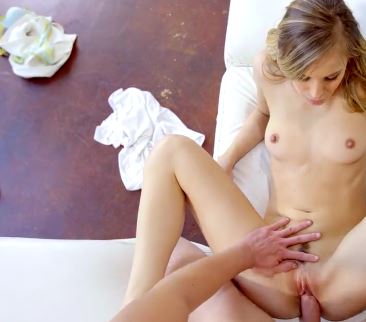 With clothes on the floor and passion in the air the two move together in perfect union. A sex machine built of two bodies and a shared goal. Finally when an orgasm is on the horizon, Jillian Janson the crazy bitch decides to hold tight and take the full load inside of her. She wanted a baby and now she has the sperm required to create one. He's a bit confused for the time being but the creampie he just laid out into her pussy nearly makes it all worth while, if only he could of caught it on video.
Date: July 1, 2017