Misha Cross is a petite redhead with a captivating smile. She knows her way around a dick like she owned the operators manual. In this stunning production we have the luxurious Misha Cross and her friend enjoying a bit of a photo shoot.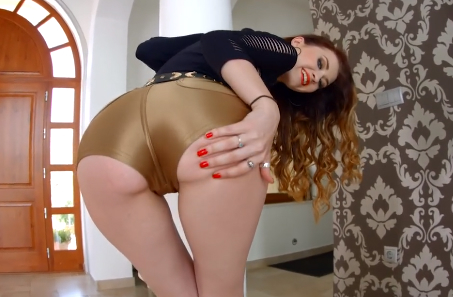 Smiling an easy smile while pulling her butt cheek, she draws attention effortlessly. Red hair drizzles from her head like rose vines aside a cobblestone home. It took her awhile to get into those shorts but she has no problem getting out of them with the right encouragement.
In this case that encouragement happens to be money, which she willingly trades access to her asshole for. Smiling and wearing her choker she moans as he enters her exit. Holding firm to the base of his meat stick, he readies the course and applies pressure until the resistance is overthrown.
Misha Cross tries anal from another angle. Her petite titties stand erect as she steadies herself with one leg while letting the other float freely. The male actor holds her tummy and slides her up and down his cock as if cocking a 12 gauge. Misha grunts and takes all of the dick that he has to offer.
When he can take it no longer, he empties his balls into her ass. Misha Cross gets an anal creampie that will be remembered for all eternity. The man gunk oozes out while she poses for the camera capturing this beautiful moment.
Date: April 20, 2017