Rebel Lynn and Aubrey Gold are the best of friends. So close that it's fine if they share one another's boyfriend. The two hotties play on the bed with some bra's and panties falling from the ceiling. Picking out their favorite pairs and trying them on to pass the time.
"He bought me all these" she said in a sexy tone. "I think he bought them for himself in a way though". They both giggled before he walks in and asks them how their day went. "What's going on in here?" he asks, walking in naked. Balls hanging out, dick fueled up, game on, pussies out.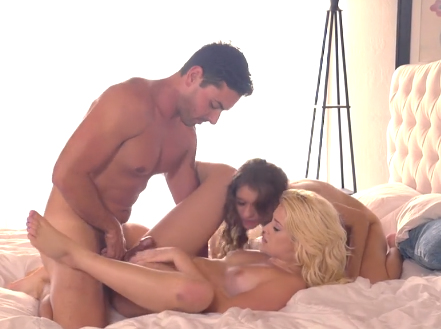 Sliding up in this hot blonde first she squeals when it slides in like bread in the toaster. Rebel Lynn looks on with unending curiosity. "Will it fit?" she asks, while warming her clit up. These two girls are about as hot as the Zishy Girls. So hot they should be getting paid for this.
Rebel Lynn takes that dick from behind, three notches to the north and we'd be reviewing an anal video. Aubrey gets a mouth full of titty while her friend moans and gets fucked hard by her boyfriend right above her. How cute!
Here we see the two cute petite babes stroking a nut out the nutbox. The nut chariot as I sometimes call it. Now he has two girlfriends, like it or not. All in all I'd call it a spectacular production with good porn stars and a decent story line. You surely can wank your pickle to this media. Be one with the fap and follow us daily!
Date: February 24, 2017