Aaliyah Hadid is a tan babe with a nice set of teeth. Peep those chompers. Her teeth are glowing white, and that could be the effect of semen. Spread the word. This hot tenant gets a visit from her landlord to collect the rent. He gets a bit angry when he realizes there's also a dog in the house. She tells him to hang tight while she goes and does her personal assistant job. He's like, does that mean you fuck him? and she makes this face.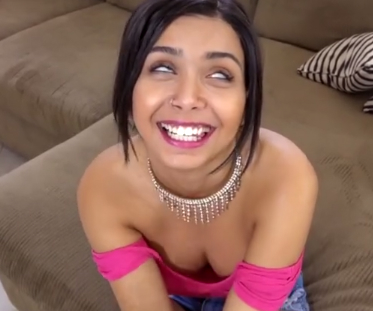 So he takes the lead and says she should be his personal assistant. She's down with the idea and loses the shirt. Titties flail and a dick gets sucked. It's pretty romantic and sexy in the grand scheme of it all. "We could be stacking up some adult cam tokens if we filmed this!" she adds. He doesn't seem to mind the idea.
So she does this. Also she tugs on his bag a bit while she does it, which probably feels pretty decent. I call this little picture "Aaliyah Hadid giving a blowjob". I know what you're thinking: "How does he come up with such a title?" and I swear, it's just the luck of the draw.
Rent's getting paid and her pussy is getting fucked. F'real. Giving a look back she mentions her favorite color, and he grunts in agreement, because purple is a nice color. The two do the baby dance for awhile longer in this position before adjusting their stances.
Pretty happy with their new arrangement she lays back and enjoys it. Her pierced nipples warm in the hot summer air and he rubs her clit in the midst of all the action. They turn off their webcam once the action is complete, another quality video for the masses.
Date: April 17, 2017