One lonely night the Brazzers website went down and this dude wanted to wank his chain. Promptly calling customer service like "Yo, what's the dealio?", the customer service agent walks him scene by scene, but it isn't enough for a visual learner like this dude.
The lady on the other end has an idea, and sends the two porn stars from the video to his house to help release any pent up energy in a more constructive way.
After about 29 seconds go by, the two porn stars Brandi Love and Alexis Fawx are in his house and sitting on the sofa. "We're gonna suck your cock and then fuck your brains out" they slyly drop into conversation. The dude is alright with this, pulling out his wang and waving it around like a magic wand.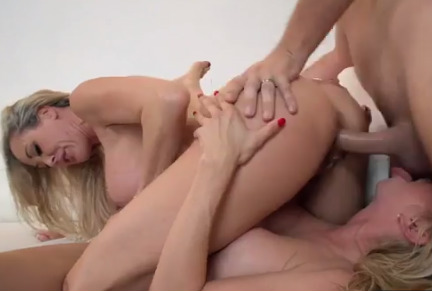 The girls are pretty excited about the length and girth of the phallus at hand. Offering up the box, he slides in like a key in the ignition. The three of them passionately fuck and enjoy it, she licks on the nut sack while he stuffs his cock in there.. Her ear picks up moans of pleasure while her eyes stare deeply into his flavorful taint.
Her titties bounce in the wild like a boat on the water while he finds himself at home inside her poonytang. A red thinamabob sits in the background, enjoying the show. Her neck muscles flex and she holds herself erect. This porno will make you cum if you rub your dick. I like to watch them because they are funny, smoke some weed.. haha.
Look at that look of satisfaction on her face, looks like she just finished a marathon.
Date: January 31, 2017