What better place to enjoy some sex than with your boy friend on a pool table in a gorgeous house in a wonderful city on a sunny day? Nothing that's what. The two start by playing a game of pool. Karlie Brooks looks great in her pink dress. We hope we can get a peek at that tight pristine body.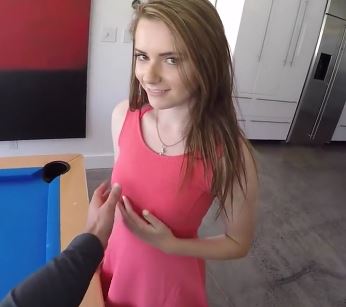 She's smiling as he reaches his hand forth to grasp a firm titty. A cute face and a petite body equals an erection. Her sexy eyes peer into her boyfriends eyes because she knows what's about to go down. She's about to get fucked hard on a pool table. The two film it and sell it to the porn industry. You can't put a price on original quality content.
Karlie Brooks giving a grade A blow job.
Ready to suck a dick? She is. Grabbing hold the swollen member in front of her, she blows away with glee. His fat phallus becomes engorged with blood as he enjoys the moment. Karlie Brooks has a little perky set of titties that glow in the dark if you smear them with the right goo.
She accepts her fate of getting fucked on a pool table and does so wholeheartedly. Her boyfriend is lucky to have found such an open and caring girl, willing to try anything his heart desires. Willing to pull that nut from it's ball sack home at any given moment at exactly the right time as if she was a mind reader. She surely is a good fuck and makes a quality porno video for all the world to happily watch. And we do!
Date: January 22, 2017