Janice Griffith is a sexy tan brunette with a a tight little body looking like a barbie doll in the hotel room. Staring into the distance she ponders the intricacies of the universe after unpacking her bag. Fantasizing about some cock, her ears pert up when the door bell rings.
Towel boy comes in like "Wattup girl, need a towel?". She replied "Not yet, but after you bust a fat nut on these titties I'ma need one!". "That's for sure!" he says back, grabbing her and initiating the ritual.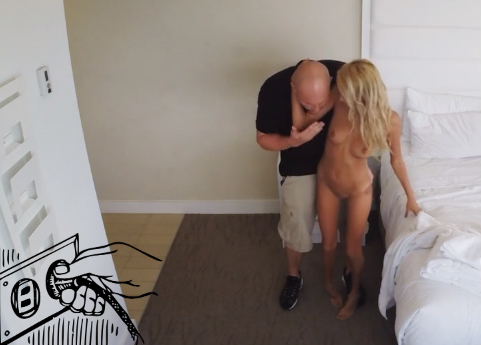 She warms up to the towel boy because he has the in with the room service dude. The mini bar is already stocked and the two share a nip before the good part starts.
Getting down on her knees and sucking the cock, Janice Griffith proves her dick sucking skills are above average if not the best the world has seen yet. A pretty face with a golden soul and lips made for coaxing nuts home. She opens her mouth and takes a fat load deep in her throat.
Date: February 24, 2017