Alexa Grace is back again and looking just as beautiful as ever. A petite tight little blonde with an amazing ass is the only way to describe her. She has a cute face that could absorb a robust nut exceptionally well. She wears a tight little dress in this film and gets coaxed into taking it off and getting it on for a bit of cash..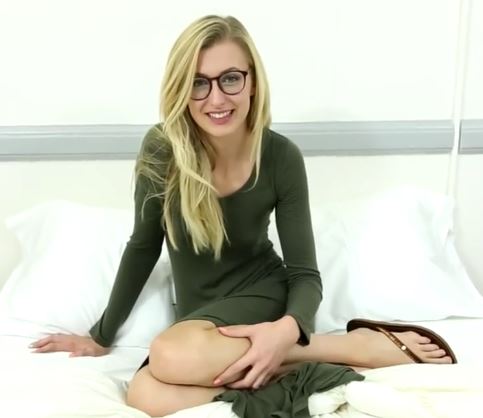 As you can see Alexa Grace is a cute porn star. She wears this green dress and all we want to do it take it off and check out those panties. IF she's wearing any. 😉
After she decides that is she is willing to fuck this dude for $1,500, She goes ahead and takes that dress off revealing these pink panties that can barely hold her snatch in. She bends over and lets us get a look at her perfect ass while her eyes gaze back in hope and anticipation. Ready for the cock, She is.
She bends over and he pulls out his massive cock that must be about 8.5 inches long with a respectable girth. He slides it into her pussy from behind slowly at first and than picking up momentum as time moves forward. She moans in pleasure at the happenings. The lighting in the room is perfect as his slides in and out of her flower pot for what seems like months, maybe even years.
After the doggy style position they move into the missionary position and she seems to be loving it. He stuffs his big dick into her tiny tight pussy and she smiles a wide smile. Her blond hair is thrown around as if standing afront a fan but in reality it is just the lustful passion and breathing of her male counterpart as he pours his heart and soul into such a clever endevour as fucking Alexa Grace.
The scene ends with Alexa Grace sucking and stroking that dick like a pro before it erupts inside of her mouth. She gobbles it up with glee and shows it off before swallowing it for further digestion. All in all we rate this video awesome out of fantastic! 🙂
Date: January 11, 2017