Alexis Fawx is a MILF with an attitude. Trying to get him to stay away from her daughter she sucked his dick, but it wasn't enough so she invites him over to sweeten the deal after a bout of argument. "Do I gotta suck your dick again or what?!" she asks semi politely. "I do! You got the best milf pussy.." he reminds her.
Alexis Fawx trying to pretend like she doesn't want the dick. She's secretly getting wet about the whole ordeal. "I'm going to need to change my panties before I go to the business meeting" she thinks to herself.
The two go from conversation to fucking in a half a millisecond. Moaning loudly MILF Alexis Fawx gets her pussy pounded like Rocky's punching bag. "I'm doing this for my daughter" she reminds herself jokingly. He slaps his dick up inside her trying to manifest an orgasm.
She leans forward a bit so she can fit the full length of that unit into her cum repository. Randomizing her moans and rolling her eyes into the bag of her head to inspect her thoughts, she's positive she's doing the right thing.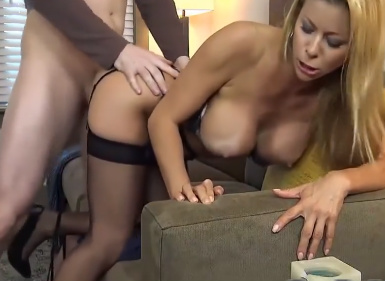 Pulling her big tits out and grasping the side of the sofa, she plays a sex musical. He strums her strings slaps that ass like it was a bass string. Her nipples are harder than jerking off to a book with no pictures. Kinda surprised she's kept her heels on throughout all this.
He's finally ready to shoot a cum bullet. He aims his gun on her back and fires a string of ball butter onto her back. She's happy with the events. He tells her they should do it again when he daughters around. And in the heat of the moment she tells him to come back around 7pm when her daughter gets back from working at the Yoga Studio wearing those sexy yoga pants.
Date: April 12, 2017