Stacie Jaxxx is a petite little piece of ass made for fucking and sucking. Watch her get her little ass hole licked after she pulls off her tight jeans.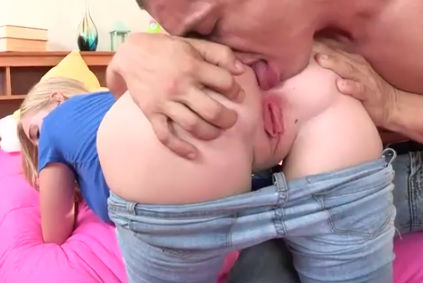 Look at that tight pink pussy getting wet. Dude's lucky as fuck to get to bury his face in that ass if you ask me. He takes every opportunity to enjoy his job of that I'm sure. These two porn actors have excellent chemistry it seems.
Here we have an interesting moment. Sucking his dick while she rubs his balls and has her pussy fondled. That tight little ass gives me an erection for sure. Her cute little face buried in her work is wonderful. She's farming orgasms and saving some for later.
Fuck her right in the pussy.
He passionately slides up in that tiny pussy like a brick through a window. Stacie's enjoying the shoot, laying back and getting fucked like a champ. Her panties will be damp for weeks after this just thinking back on the memory I'm sure. He pumps away and goes to town on that ass for awhile before burying a nut init like a pro.
Date: January 16, 2017