Lena Paul and Alex Blake are feeling extra horny today. They are ready to lick each other like ice cream cones. Making there way to the bedroom for some super sexy fun, the two are excited to get kinky and cum.
Pressing bodies against one another inducing an influx of dopamine and stimulating endorphin production. The two sexy porn stars fuck each other into uninhibited joy. Alex Blake knows how to lick a pussy, and Lena Paul knows how she likes her pussy licked.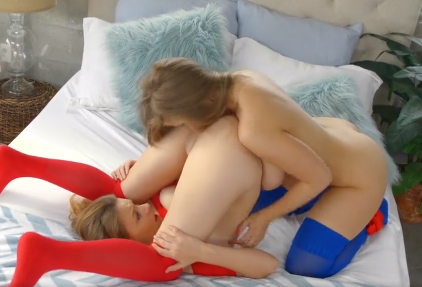 Alex Blake throws Lena Paul's legs over her head and buries her face in her pussy. They are working on a mutual orgasm, and a solid cuddle on those comfy pillows. Alex Blake has a nice little set of titties and a perfect ass. It's a win win combination. These two lesbian lovers fuck the energy out of one another before Netflixin' it B. They don't gotta work cuz they make an epic cam girl duo.
The two use toys and kiss one another. Rubbing titties and flickin' clitties. The two have chemistry, call that science, pick up the phone for one another, and always meet up. The studio that matched these outwits eHarmony by miles. Moaning and groaning the cavemen light fires for moments like this. Pussies wetter than lips merge like tea mix in water. These fuckable porn stars get each other off like they toggled the power switch. Sexy.
Date: May 5, 2017