Everybody loves free porn and anal sex. I know this is true because numbers don't lie, you horny bastards. Jillian Janson is a sexy little blonde porn star that knows how to get her ass filled up with cock and live to tell the tale. In this feature presentation she clenches her sphincter around her boyfriends cock coaxing an orgasm from the dudes shaft. She does so with style and grace like a bird in flight, but instead of a bird in flight, it's anal sex.
Here we see the porn star Jillian Janson sucking a cock. Lubing it up before she buries it in her butt hole, like a rabbit climbing back into its hole. Her nipple flails in the wind begging for a piercing, while an apartment building sits firmly in the distance. Janson is enjoying her career in porn, and is likely to be found in tons of free porn videos around the world wide web.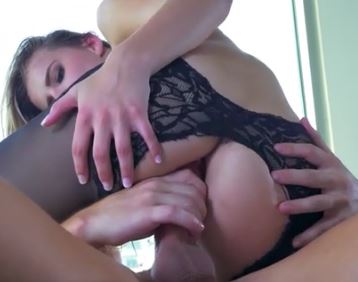 Ripping a hole in her leggings in anticipation, her partner arranges his meat for insertion like a fat steak ready for packaging. She doesn't seem to intimated by the large member about to poke her insides up like a BB gun does a tin can. She's up for the challenge like a marathon runner at his biggest meet. After a bit of lube and a little finesse, he's in, and she's moaning and groaning in typical porn star at work fashion.
Here we see the final product of all that effort. Jillian Janson gets her ass all filled up like a dump truck with sand the night before a snow storm. He boob dangles free and her hand is buried in her pussy, digging for a hidden treasure. The two enjoy a wonderful fuck and create an epic porn video that will be passed down generation to generation for thousands of years to cum. Be sure to bookmark FappyBirds.com and tell your mom about us.
Date: February 13, 2017