Aidra Fox is a sexy school girl with a pussy made of gold and a heart made of carbon fiber. She breaths fire and smokes dicks. Her skin is diamond plated and triple layered, with a pussy that drips water from the fountain of youth. She's found herself in a bit of a predicament with the Dean, and is ready to fuck her way out of it without hesitation.
She pulls out his pickle and sticks it between her titties. With a smile and a grin she rubs the professors cock between her boobies. He nipples are harder than frozen rolling rocks, and her pussy is wetter than warm ones. Her ear picks up a noise in the other room, but it is promptly ignored, she finds her center and rubs the cock like lotion on the skin.
Aidra Fox gets fucked by the Dean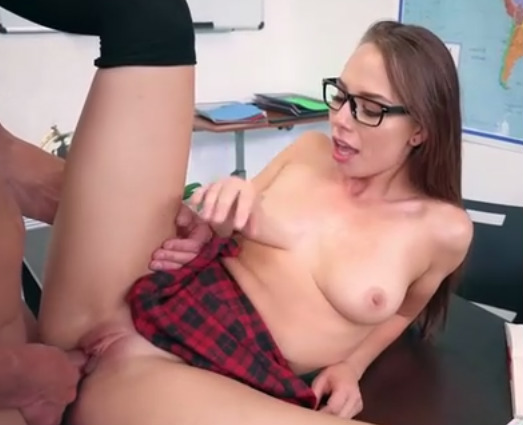 Hiking up dat skirt skirt, he slides slides, his dick inside her twat. She moans in pleasure. Adding "Fuck me harder and play with my titties" into the surrounding air. Her boobies jiggle like leafs in the wind, dancing and playing and falling to the floor as time goes on.
Tossing a leg over the side he goes at it from another angle. Pumping away like he's standing at a gas pump, He peers deeply into his students eyes and thinks she deserves an A for all this work she puts in. "I like having sex with you" he says bluntly, "I enjoy the dick" she replies without a stutter. The two continue fucking like this until they have a mutual orgasm and fall asleep on the desk.
Date: February 6, 2017