Blonde doll Naomi Woods gets a ride back from shopping and decides she's going to slob upon the nob before finishing her journey. She starts by rubbing her pussy like a fan does air, getting wetter than a tad pole on a hot summers day. Talking with her boyfriend on the phone he says maybe she should bang the driver and let him listen. The driver can do nothing but agree, but first, he stops the car to let her in.
"What up biddy?" he states enthusiastically. "One ticket to the top!" she replies with glee. Naomi Woods hops in the car like a porn star hops on the scene. Having just bought a ton of new clothes she figures it isn't that big of a deal to go ahead and wet these panties up so they are worth more on the market. She is turning $2 panties into $50 and putting the money to use to start her own fashion line that specializes in panties which can then be resold to people who enjoy sniffing dirty panties instead of washing them and mailing them back.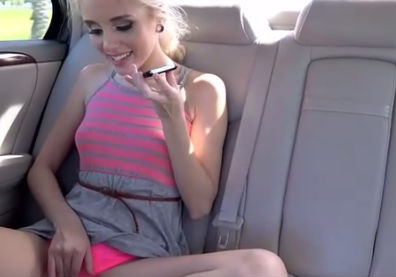 It's a comfy ride and she's having some fun when the conversation piece comes up and things escalate to the next level. She likes the idea and thinks to herself "I am pretty horny". Having a cock stuffed inside of her like stuffing to a turkey is fairly high on her list of priorities and things to get done today so she follows through with the mission statement and gets herself a huge cock to play with. The two talk back and forth exchanging witty remarks and telling stories of nights gone by, the lighting is good and the sun is warm in California this time of year, the car is comfy and things seem to be going according to plan.
Stroking the cock up and down like a market graph she smiles and bats her eyes a bit. The vein of this dick looks like it could pump 13 gallons of semen on to her face at roughly 400MPH topping the fappybirds record of 213 NPM (nuts per minute). She's happy to do her work and gives the dick a massage that is sure to be remembered for years and years to come. One the two are happy with the hand and blow job situation they are ready to move into some full on hard core dick in the mother fucking pussy sex. Everyone is pretty excited about that.
She sits on his dick and lets it glide up into her stomach nearly touch the bottom of her throat. He's erect as he has ever been and stands tall like a Radio Tower. She's glad she went clothes shopping and found a new company to buy her T-shirts from, there sense of fashion matched with hers perfectly and she got so excited about her new clothes that she just had to get fucked in the love box.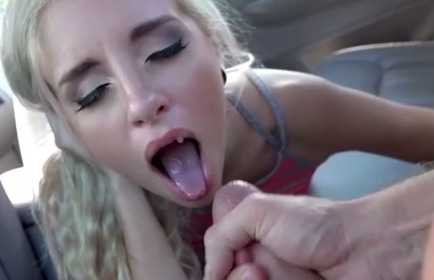 After 13 minutes had passed she bowed down and accepted the nut on her face. It surely was a glorious eruption reminding me of a Volcano that had been waiting to release for a hundred and seventeen years. When it finally popped and shot out it tasted like Strawberries and Pineapple on her tongue. The two had a good time and he helped her with her bags as she left the ride and went home to make some amazing Taco's.
Date: January 28, 2017