In this asstounding production we have three white girls lined up ready to get their ass hole stretched out by a huge black cock. Get the motha fucking lubrication ready because there's bound to be some friction with a cock that size. Three anal sluts get it in the butt until he nuts hard from the gut. Moaning in pleasure it's all work and leisure with cheeks stretched so far yet they fall back together.
Here we see the lady of the house warming up her friends for the fucking to cum. The camera man checks FappyBirds.com in the foreground. Three beautiful women he hath been given wielding his dick with precision he makes it his mission to fuck these girls in the ass with the dopest of rhythm.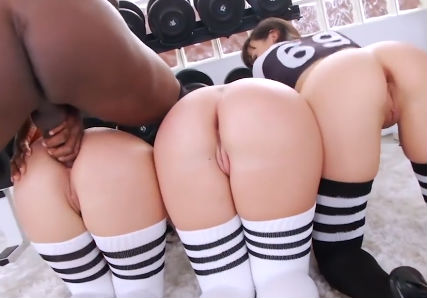 He crams his cock in deep cause these girls are in need of an anal sex treat. It was so good they had to recover for a whole week. Little pussies in the air and some stockings under there with their heels on tight she moans out "feels just right".
Once the deed is done she licks cum from her friends ass. A faptastic production and wonderful display, Any of these girls would be an epic lay. Well practiced and perfectly maintained, They hit the gym again and again.
Date: January 24, 2017