This precious little school girl really needs to up her flute game. She took a hit of weed right before she came in looking like a walking ball of good vibes. Unfortunately she can't play the flute for shit, but lucky for her we got the best teachers.
After struggling for awhile the teacher comes up with a solution. Dolly needs to practice on his stiff cock. After a little coaxing she agrees she does need practice. Wrapping her lips around the phallus the air in the room rises 8 degrees.
Her cute head band is purple, holding her hair back and revealing her sexy face. She quickly picks up the art of the skin flute and plays a heavenly melody. An epic porn scene with two quality actors who can stick to the script is a great recipe for a fat nut and a tissue.
Dolly Leigh is a gorgeous little sex kitten
If that doesn't get your dick hard, you're in for a treat. Dolly Leigh has a tight body with perfect tits a cute face and an enjoyable attitude. Sex appeal and motivation coupled with passion and a perfect pussy. An epic ass with electric curves and stimulating eyes that entrance any on lookers who peer inside.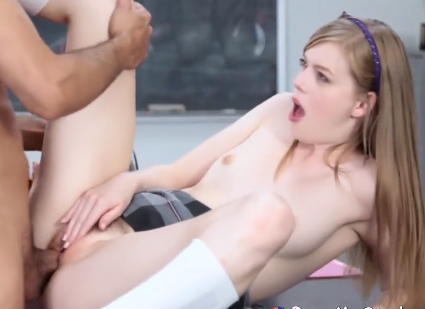 She slides into a sexual mood like a skater on the ice. Her teacher puts her on the desk and fucks her hard missionary. The two see each other in a new Light. Her perfect sized breast bounce with each thrust of his blood infused cock. Dolly rubs her pussy clockwise and hits the right spots at the right times creating an influx of pleasure and joy.
By far one of the best pairs of tits I have seen all day! And cute nipples to boot. This tight teen school girl gets her pussy rammed hard and deep. She pulls up that mini skirt and reveals what everyone wants, yes, she hid her soul in there. Cum back for more fappy video reviews because you know you love it. Stay tuned like a guitar and content as a calm pond. Fap on.
Date: January 17, 2017